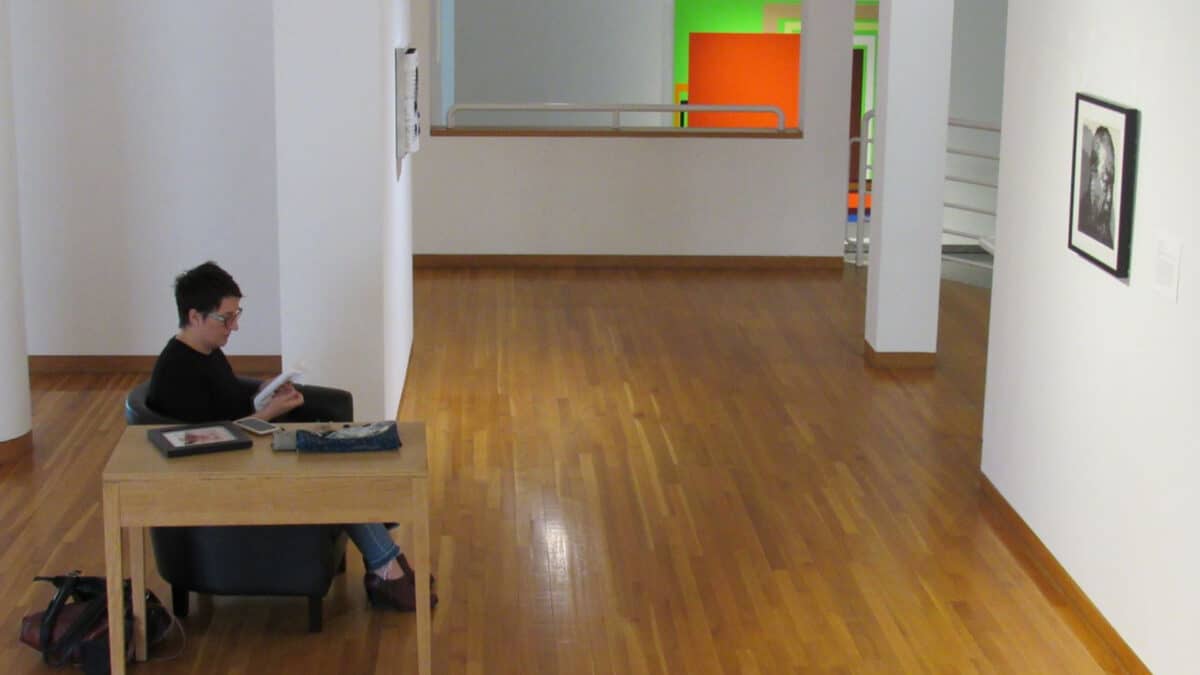 As part of the Des Moines Art Center's new My Museum Monday program, each month an Art Center member is invited to spend time in the museum when the building is normally closed to the public. We received dozens of applications to take part in this experience and are excited to begin sharing them with you.
For Des Moines Art Center member Kristie Bell, cross stitching is "very soothing and serves as a way to quiet [her] mind." Naturally, when asked how she would spend three hours alone in the museum, she wanted to cross stitch a replica of a famous work on display. As she searched the galleries for inspiration on what to replicate, one piece stuck out to her. Ai Weiwei's 2017 work Self-portrait in LEGO was the perfect piece because, according to Kristie, "it already uses pixilation to convey the image, which is essentially what cross stitch does." Because cross stitching is a slow and tedious process, she designed the pattern and started stitching a bit ahead of time, enough so that she could complete it while at the museum. All in all, her 3" x 3" masterpiece took a total of 15 hours to create!
Kristie usually preoccupies herself with movies while stitching and initially considered listening to music or a podcast. However, she "decided to make it a more contemplative experience" and let her mind wander, stitching in silence. For Kristie, cross stitching alone in a quiet and empty museum was therapeutic. Her goal for creating this piece was to "challenge the notion that cross stitch is uncool or only for little old ladies – it can be modern and fresh!" She says she's on a one-woman mission to make cross stitch cool.
Like many of our other wonderful members, Kristie believes that the Art Center is "one of the gems of our city", and she appreciates the free admission program. Kristie says, "Being a member helps me feel connected to the belief that art – in all forms – has the power to inspire." We thank Kristie for her support as a museum member, an art lover, and a talented cross stitcher!