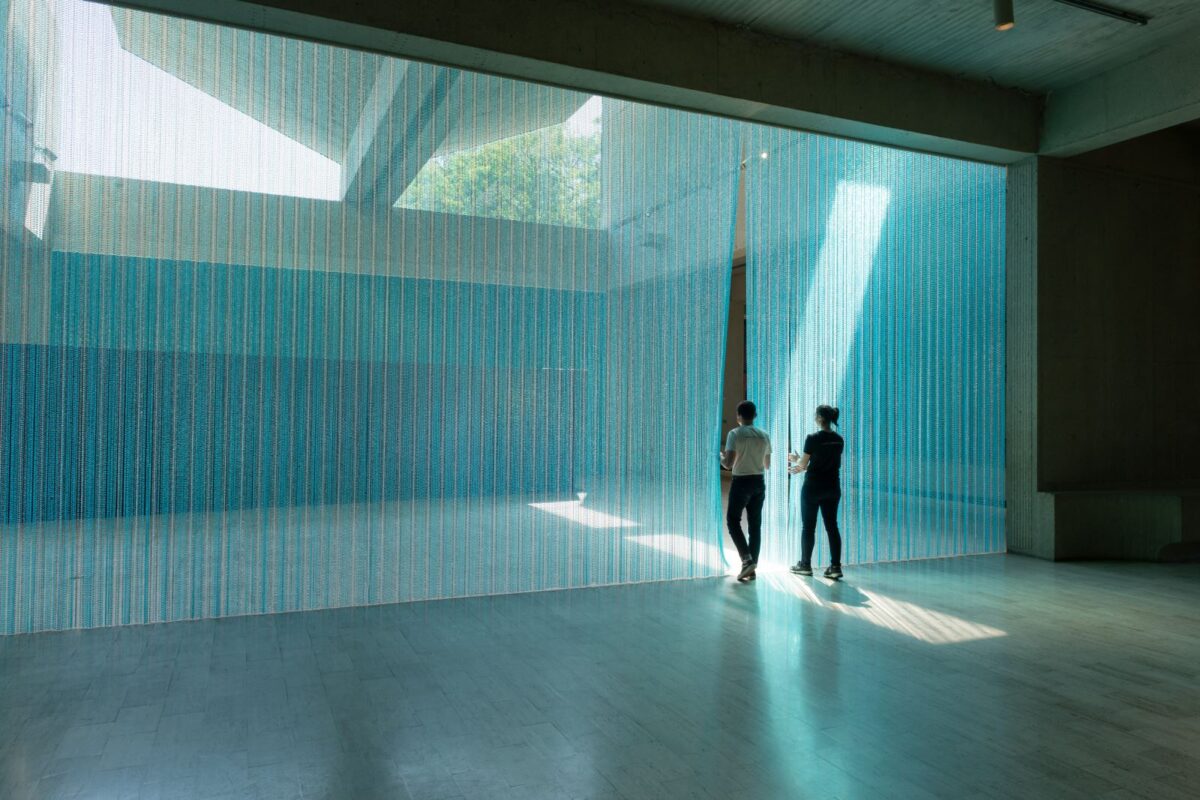 For Immediate Release
Contact: Jordan Powers
Tel: 630.470.5136 (m)
Email: jpowers@desmoinesartcenter.org
DES MOINES, IOWA (DECEMBER 2020) – The Des Moines Art Center is proud to announce that the groundbreaking exhibition Queer Abstraction has received the 2020 SECAC Award for Outstanding Exhibition and Catalog of Contemporary Materials. SECAC is an 80-year-old, national non-profit organization devoted to education and research in the visual arts.
Queer Abstraction was the first exhibition in the Des Moines Art Center's 70-year history to focus exclusively on queer sexuality and gender identity. It marked a substantial shift in the Art Center's programming by purposely including queer voices that have largely been left out of art history. The exhibition, organized by Associate Curator Jared Ledesma, was on view at the Art Center from June 1 to September 8, 2019. Queer Abstraction then traveled to the Nerman Museum of Contemporary Art in Overland Park, Kansas, opening in November 2019 and closing in March 2020. The exhibition catalog was designed by Annabel Wimer.
The exhibition included artworks from Math Bass, Mark Bradford, Edie Fake, Felix Gonzalez-Torres, Harmony Hammond, Nicholas Hlobo, John Paul Morabito, Carrie Moyer, Sheila Pepe, Prem Sahib, Jonathan VanDyke and Jade Yumang. The project also included commissioned works by Elijah Burgher and Mark Joshua Epstein, and a new edition of artist Tom Burr's large-scale sculpture Deep Purple. The Nerman Museum's presentation included five additional artists: Paolo Arao, Linda Besemer, Keltie Ferris, Matthew Garcia and Bo Hubbard.
"I am humbled that SECAC has recognized Queer Abstraction and proud of the Des Moines Art Center," Ledesma said. "The exhibition was a phenomenal success due to the hard work of many supporters and individuals, and I accept this award on their behalf."
For further information, interviews/quotes or exhibition images, please contact Director of External Affairs Jordan Powers at 630.470.5136 or jpowers@desmoinesartcenter.org.
About the Des Moines Art Center
Recognized by international art critics as a world-class museum in the heart of the Midwest, the Des Moines Art Center, an AAM-accredited institution, has amassed an important collection of art from the 19th century to the present, with a major emphasis on contemporary art. Focused on quality and global in scope, it includes major works by Henry Ossawa Tanner, Edward Hopper, Georgia O'Keeffe, Francis Bacon, Andy Goldsworthy, Henri Matisse, Wangechi Mutu, Ai Wei Wei, and Kara Walker, among hundreds of others. The collection is housed in three major buildings, each designed by a renowned architect—Eliel Saarinen, I. M. Pei, and Richard Meier. With the exception of special events, admission to the museum is free.
In September 2009, the John and Mary Pappajohn Sculpture Park opened in Des Moines' Western Gateway Park. Philanthropists John and Mary Pappajohn provided funding for and donated 31 sculptures by internationally acclaimed contemporary artists to the Des Moines Art Center. The collection of sculptures by such artists as Martin Puryear, Louise Bourgeois, Deborah Butterfield, Willem de Kooning, Mark di Suvero, Olafur Eliasson, Keith Haring, Robert Indiana, Ellsworth Kelly, Yayoi Kusama, Jaume Plensa, and Richard Serra, and Joel Shapiro is the most significant donation of artwork to the Art Center in a single gift in the museum's history. The Pappajohn Sculpture Park is a collaboration of the Pappajohns, the City of Des Moines, the Des Moines Art Center, and numerous corporate and private donors.
#  #  #