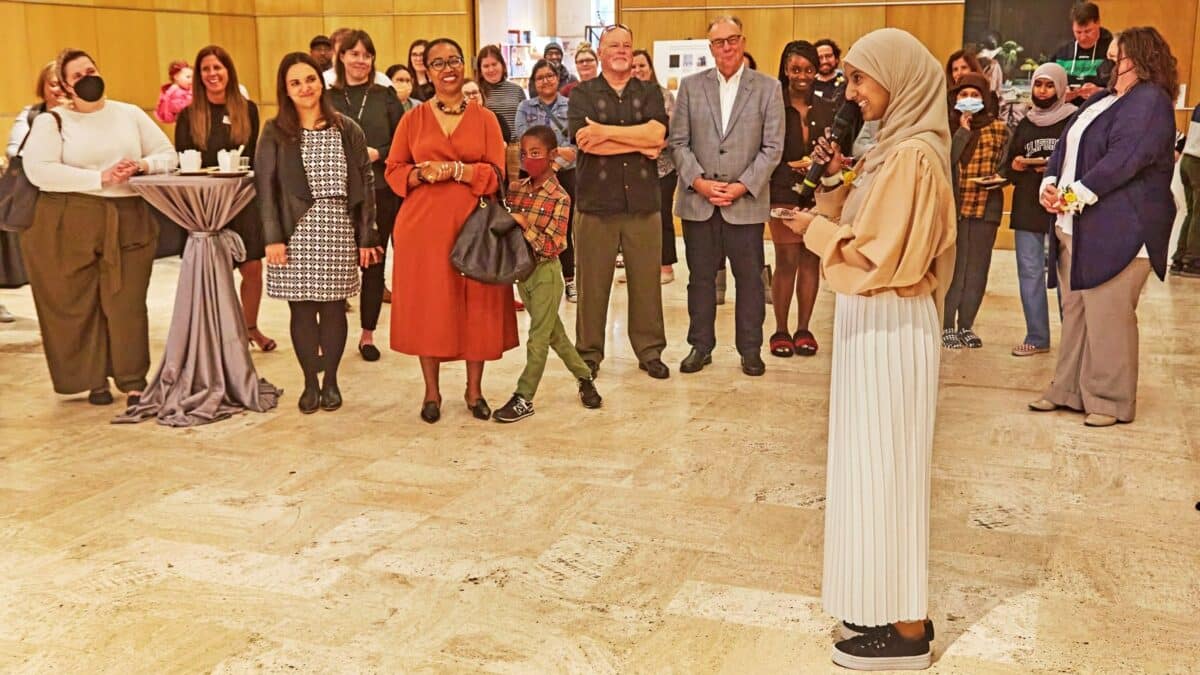 With support from the Principal® Foundation, students from Des Moines Public Schools recently had the opportunity to participate in a pilot program titled "My Voice" through a collaboration of the Des Moines Art Center and By Degrees Foundation.
The "My Voice" program was born out of an idea to create a spotlight for the creativity and talent that already abounds among the youth of our city. By Degrees coordinators nominated twelve talented students from Findley Elementary, Harding Middle, and North High Schools to participate in curriculum guided by the Art Center with a focus on using art as an outlet to express thoughts, emotions, and aspirations that can be difficult to convey in other ways.
After a multiple week process to explore the museum and develop their own concepts, students were invited to create a work of art that drew inspiration from a piece in the Art Center's collection. Students were supported with materials, artistic guidance, and enthusiasm from many adult mentors. The resulting works of art were presented as an exhibition at a reception for the students, their families, and school administrators on May 5. Director of the Principal® Foundation, Jo Christine Miles, expressed her support at the student reception saying, "We are enthusiastic that we had an opportunity to fund this program. Art is a universal language…and through that language we create community."
"My Voice" strives to help youth realize the value of their unique perspectives, talents, and voices, and to share those gifts with others. This message was taken to heart by Aryam, a North High student and artist. Speaking to a large crowd at the reception, Aryam shared her takeaways from the program. "By being in this project, it made me realize that our voices do matter in this world – and they should be heard by everyone. This project has brought us students together in creating a beautiful space where we can uplift each other. It made us know that our perspective on art is valuable and truly meaningful."
That comment, among many others from the students, parents, and program administrators, marked the pilot as a success. The same sentiment was reiterated by By Degrees Program Director Heather Isaacson who said, "Before 'My Voice,' these students may have considered themselves to be artistic. Now they know in their heart of hearts they are authentic Artists, and their sheer being in this community matters. We are all better for what they create."
The student works can be viewed by visitors to the Des Moines Art Center by opening QR codes found throughout the museum next to the students' inspiration pieces. Additionally, the student artworks, inspiration pieces, and artist statements can be viewed on the Art Center's website. Artist statements by each student offer insight and reflections about their creations such as Griffin, a third grader from Findley Elementary who wrote, "I want people to know that art can be made by anyone, any age, any time." To date, "My Voice" works have received nearly 500 views online.
In addition to facilitating the "My Voice" program, Principal® Foundation funding has allowed the Art Center to create four video "toolboxes" for educators, parents, and students. The videos cover topics such as what to expect when visiting a museum, how to prepare students or parents with small children for a visit, and how to invite curiosity into the museum experience. The first two videos, "A Place for Curiosity" and "Tour with Your Eyes" are available to view on the Art Center's website. Two additional videos will be produced later this year.
For further information, please contact Director of External Affairs Amy Day at 515.612.0775 or aday@desmoinesartcenter.org.
About the Des Moines Art Center + John and Mary Pappajohn Sculpture Park

Recognized by international art critics as a world-class museum in the heart of the Midwest, the
Des Moines Art Center, an AAM-accredited institution, has amassed an important collection of art from the 19th century to the present, with a major emphasis on contemporary art. Focused on quality and global in scope, it includes major works by Henry Ossawa Tanner, Edward Hopper, Georgia O'Keeffe, Francis Bacon, Andy
Goldsworthy, Henri Matisse, Wangechi Mutu, Ai Wei and Kara Walker, among hundreds of others. The collection is housed in three major buildings, each designed by a renowned architect—Eliel Saarinen, I. M. Pei and Richard Meier. With the exception of select special events, admission to the museum is free.
In September 2009, the John and Mary Pappajohn Sculpture Park opened in Des Moines' Western Gateway Park. Philanthropists John and Mary Pappajohn provided funding for and donated 31 sculptures by internationally acclaimed contemporary artists to the Des Moines Art Center. The collection of sculptures by such artists as Martin Puryear, Louise Bourgeois, Deborah Butterfield, Willem de Kooning, Mark di Suvero, Olafur Eliasson, Keith Haring, Robert Indiana, Ellsworth Kelly, Yayoi Kusama, Jaume Plensa, Richard Serra and Joel Shapiro is the most significant donation of artwork to the Art Center in a single gift in the museum's history. The Pappajohn Sculpture Park is a collaboration of the Pappajohns, the City of Des Moines, the Des Moines Art Center and numerous corporate and private donors.
About Principal® Foundation 
Principal Financial Group Foundation, Inc. ("Principal® Foundation") is a duly recognized 501(c)(3) entity focused on providing philanthropic support to programs that build financial security in the communities where Principal Financial Group, Inc. ("Principal") operates. While Principal® Foundation receives funding from Principal, Principal® Foundation is a distinct, independent, charitable entity. Principal® Foundation does not practice any form of investment advisory services and is not authorized to do so.
About By Degrees Foundation
By Degrees partners with whole schools to increase high school graduation and postsecondary readiness rates on Des Moines' northside. The work begins in kindergarten and follows students through high school graduation, ensuring they're immersed in an expansive culture of postsecondary education, career exploration and future-focused planning throughout their K-12 experience. By Degrees builds intentional partnerships with schools, community organizations, businesses and postsecondary institutions to uplift students, families and whole neighborhoods.
# # #