For Immediate Release
Contact: Amy Day
Tel: 515.271.0344 (o)
515.612.0775 (c)
aday@desmoinesartcenter.org
"Even Stones Have Eyes" by Pakistani-American artist Huma Bhabha is the 32nd Sculpture installed at the John and Mary Pappajohn Sculpture Park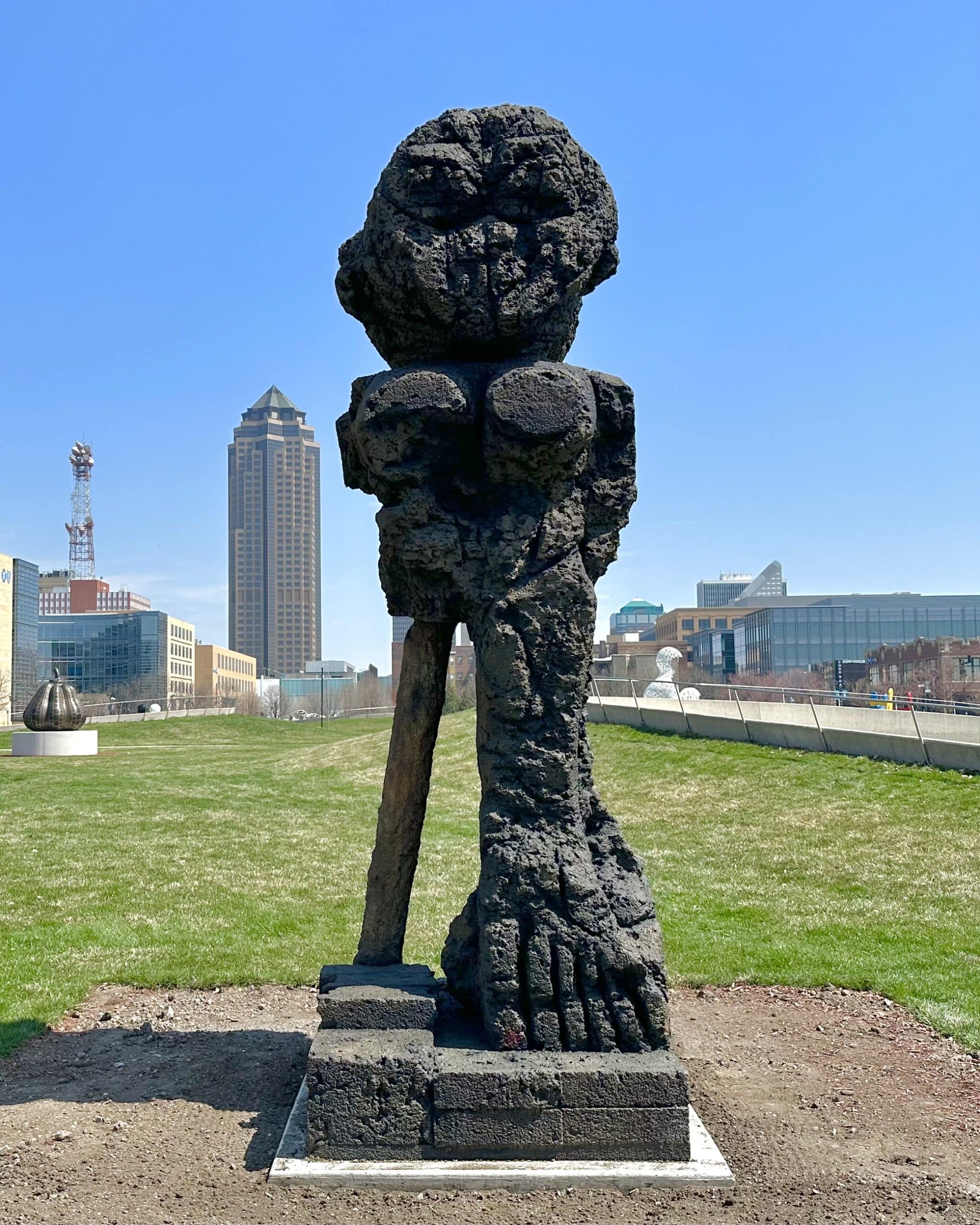 DES MOINES, IA (April 2023) – The latest addition to the John and Mary Pappajohn Sculpture Park is an imposing bronze sculpture entitled, "Even Stones Have Eyes," 2023, by Pakistani-American artist, Huma Bhabha. In this 12-foot-high bronze sculpture, Bhabha positions a female figure with a missing arm and peg leg as a monumental giant. The work could be perceived as having several faces, inviting views from multiple angles. Like the mythological Roman god Janus who is often seen as the god of doorways, these various "fronts" or facades exhibit dualities such as life and death, beginnings and endings, entrances and exits. This is a fitting metaphor for a figure that might be alternately viewed as the aggressor or the victim. The somewhat unsettling monsters in Bhabha's work speak to the concept of displacement and disillusionment derived from the region of her birth where she has stated that because of war, "cities can look like architectural digs."
Bhabha simultaneously draws from past representations of the human figure, such as Paleolithic, Egyptian, or classical sculptures of ancient Greece, as well as imagery taken from today's cartoons, horror films, and science-fiction. The dark patina on "Even Stones Have Eyes" gives the impression of rust and age, invoking simultaneous feelings of both an ancient and contemporary object. Additionally, Bhabha's use of found materials in her creative process harkens to the artwork of Modern artists such as Pablo Picasso and Robert Rauschenberg.
Born in Karachi, Pakistan, Bhabha came to the United States to study at the Rhode Island School of Design and Columbia University where she earned an MFA in 1989. She has had equally monumental works exhibited on the roof garden of the Metropolitan Museum of Art in New York and on the National Mall in Washington D.C. at the Hirshhorn Museum and Sculpture Garden.
Funds for the purchase of this sculpture were given by John Pappajohn in memory of his wife, Mary. John and Mary Pappajohn Director Jeff Fleming is thrilled to share this work with the community before his retirement at the end of this month. "It is a special privilege to announce a new addition to the John and Mary Pappajohn Sculpture Park. This work by Huma Bhabha is a fitting tribute to a marvelous lady, and the entire Art Center community is pleased that we can honor Mary Pappajohn in this way."
For additional information or images, contact Director of External Affairs Amy Day at 515.271.0344 or aday@desmoinesartcenter.org.
About the Des Moines Art Center + John and Mary Pappajohn Sculpture Park
Recognized by international art critics as a world-class museum in the heart of the Midwest, the Des Moines Art Center, an AAM-accredited institution, has amassed an important collection of art from the 19th century to the present, with a major emphasis on contemporary art. Focused on quality and global in scope, it includes major works by Henry Ossawa Tanner, Edward Hopper, Georgia O'Keeffe, Francis Bacon, Andy Goldsworthy, Henri Matisse, Wangechi Mutu, Ai Wei Wei, and Kara Walker, among hundreds of others. The collection is housed in three major buildings, each designed by a renowned architect—Eliel Saarinen, I. M. Pei, and Richard Meier. General admission to the museum is always free for all.
In September 2009, the John and Mary Pappajohn Sculpture Park opened in Des Moines' Western Gateway Park. Philanthropists John and Mary Pappajohn provided funding for and donated 32 sculptures by internationally acclaimed contemporary artists to the Des Moines Art Center. The collection of sculptures by such artists as Martin Puryear, Louise Bourgeois, Deborah Butterfield, Willem de Kooning, Mark di Suvero, Olafur Eliasson, Keith Haring, Robert Indiana, Ellsworth Kelly, Yayoi Kusama, Jaume Plensa, Richard Serra, and Joel Shapiro is the most significant donation of artwork to the Art Center in a single gift in the museum's history. The Pappajohn Sculpture Park is a collaboration of the Pappajohns, the City of Des Moines, the Des Moines Art Center, and numerous corporate and private donors.
# # #