For Immediate Release
Contact: Amy Day
Tel: 515.271.0344 (o)
515.612.0775 (c)
aday@desmoinesartcenter.org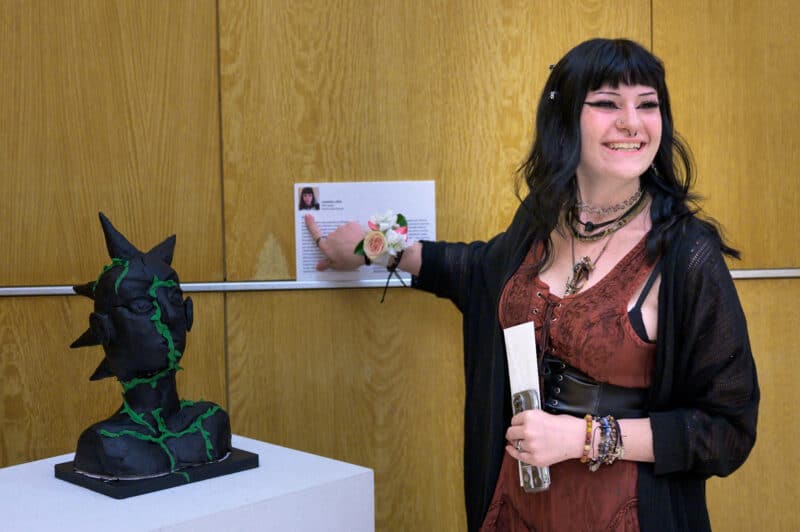 DES MOINES, IA (May 2023) – With support from the Principal® Foundation, the Des Moines Art Center has partnered with the By Degrees Foundation to deliver My Voice, a program dedicated to amplifying the unique creativity and skills of Des Moines students through mentorship, inspiration, and artistic resources. Now in its second year, the My Voice program invites youth to gather, question, and experience the ways that museums and art can serve as tools for creative and critical thinking, self-reflection, mindfulness, and shared human connection.
Twelve students, ranging in age from 8 to 17, were chosen from Findley Elementary School, Harding Middle School, and North High School to participate in this year's program. Over the course of the academic year, these students were invited to the Des Moines Art Center for several tours and mentoring sessions, including a newly added behind-the-scenes tour of the vault. Additional museum experiences allowed the students to learn about art, be inspired to create their own original works, and develop an artist statement about their work.
At the culmination of the program, My Voice participants displayed their works in a student exhibition at the Des Moines Art Center on Thursday, May 11, 2023, for an audience of family, friends, educators, and supporters. During the exhibition, ideas of ownership, reflection, and messaging were found throughout several of the students' artist statements displayed alongside their creations.
In her artist statement, eighth grade Harding Middle School student Radiance Brown, spoke of the joy in sharing and interpreting art with others. "My artwork is usually something I don't describe to others. I like when people voice their opinions. They could be completely wrong about the meaning behind it, but it's fun to see the different perspectives that people have." Fellow Harding eighth grader, Karla Guzman, says, "Art is a place where you can be honest. It speaks more words than any statement. It is filled with the desires and the emotions of the artist that created it."
"These students are getting a priceless experience," according to By Degrees Elementary Program Manager Billy Kirby. "They are led through the Art Center's collections several times and given space and time to really consume the art, ask questions, make observations, and let themselves be moved and inspired. They are validated in their viewpoints and then encouraged to 'say something.' That's not something young people are offered every day."
"Art making is something that most of us get to experience in our K-12 education, but art looking, art sharing, art interpreting, art understanding, and art inspiring – are elements of the subject that often cannot be prioritized," shared Museum Educator and My Voice mentor, Mia Buch, when discussing the significance of the program. "These students get to spend as much time thinking and sharing about their work as they do creating it, supporting a strong sense of personal vision- helping them to see, understand, and appreciate the vision in other's work as well."
The My Voice program and partnership with By Degrees Foundation has been made possible by a generous grant from the Principal® Foundation. "Arts education is essential for our youth. Through art programs such as My Voice, students can become more bold, creative, and critical thinkers which are important skills to have in one's personal and professional life. Principal® Foundation is proud to support the My Voice art program for a second year, which provides not only an opportunity for students to express themselves through art in a safe space, but also help advance the skills they'll need to become the leaders of tomorrow in their communities and professional careers," said Jo Christine Miles, director of Principal® Foundation and Community Relations.
Museum visitors can view the artworks created by My Voice students by scanning QR codes located next to the pieces that inspired them in the Art Center galleries or by visiting the Des Moines Art Center's website at desmoinesartcenter.org.
For additional information, please contact Director of External Affairs Amy Day at 515.612.0775 or aday@desmoinesartcenter.org.
About the Des Moines Art Center + John and Mary Pappajohn Sculpture Park
Recognized by international art critics as a world-class museum in the heart of the Midwest, the Des Moines Art Center, an AAM-accredited institution, has amassed an important collection of art from the 19th century to the present, with a major emphasis on contemporary art. Focused on quality and global in scope, it includes major works by Henry Ossawa Tanner, Edward Hopper, Georgia O'Keeffe, Francis Bacon, Andy Goldsworthy, Henri Matisse, Wangechi Mutu, Ai Wei Wei, and Kara Walker, among hundreds of others. The collection is housed in three major buildings, each designed by a renowned architect—Eliel Saarinen, I. M. Pei and Richard Meier. With the exception of select special events, admission to the museum is free.
In September 2009, the John and Mary Pappajohn Sculpture Park opened in Des Moines' Western Gateway Park. Philanthropists John and Mary Pappajohn provided funding for and donated 32 sculptures by internationally acclaimed contemporary artists to the Des Moines Art Center. The collection of sculptures by such artists as Martin Puryear, Louise Bourgeois, Deborah Butterfield, Willem de Kooning, Mark di Suvero, Olafur Eliasson, Keith Haring, Robert Indiana, Ellsworth Kelly, Yayoi Kusama, Jaume Plensa, Richard Serra and Joel Shapiro is the most significant donation of artwork to the Art Center in a single gift in the museum's history. The Pappajohn Sculpture Park is a collaboration of the Pappajohns, the City of Des Moines, the Des Moines Art Center and numerous corporate and private donors.
About Principal® Foundation
Principal Financial Group Foundation, Inc. ("Principal® Foundation") is a duly recognized 501(c)(3) entity focused on providing philanthropic support to programs that build financial security in the communities where Principal Financial Group, Inc. ("Principal") operates. While Principal® Foundation receives funding from Principal, Principal® Foundation is a distinct, independent, charitable entity. Principal® Foundation does not practice any form of investment advisory services and is not authorized to do so.
About By Degrees Foundation
By Degrees partners with whole schools to increase high school graduation and postsecondary readiness rates on Des Moines' northside. The work begins in kindergarten and follows students through high school graduation, ensuring they're immersed in an expansive culture of postsecondary education, career exploration and future-focused planning throughout their K-12 experience. By Degrees builds intentional partnerships with schools, community organizations, businesses and postsecondary institutions to uplift students, families and whole neighborhoods.
# # #