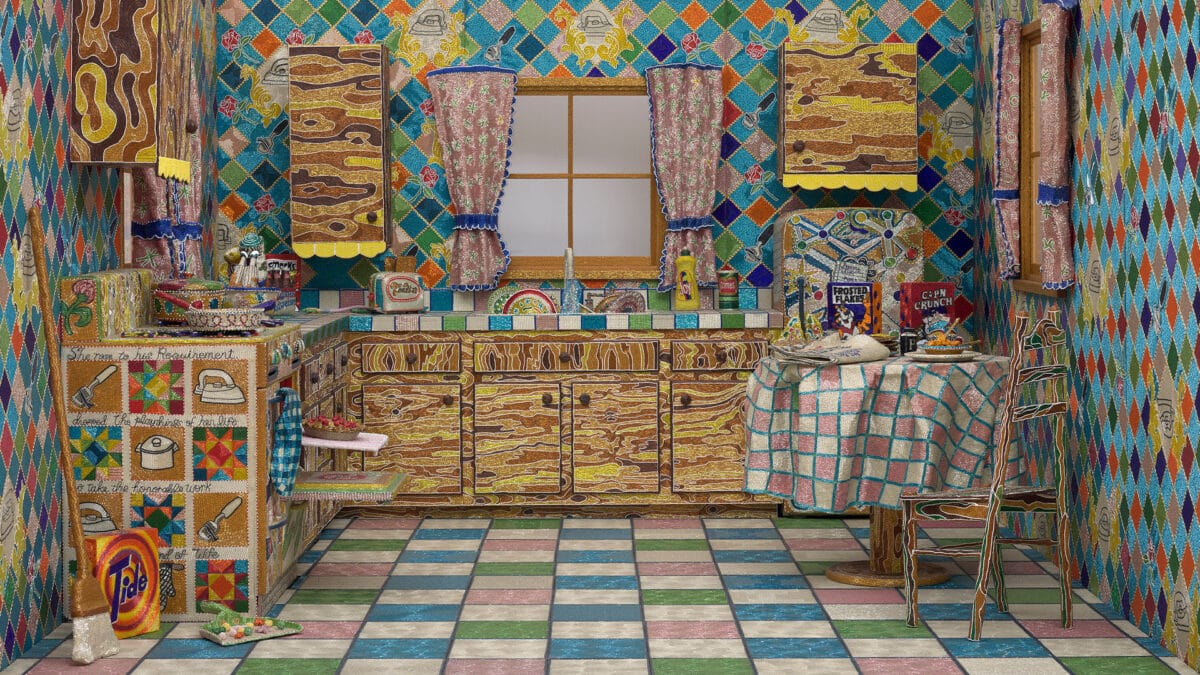 For Immediate Release
Contact: Amy Day
Tel: 515.271.0344 (o)
515.612.0775 (c)
aday@desmoinesartcenter.org
Artists Transform Damage into Beauty in the Anna K. Meredith Gallery
DES MOINES, IA (October 2023) – The Des Moines Art Center announces the opening of its newest exhibition in the Anna K. Meredith Gallery, "Transform Any Room" running now through January 14, 2024.
"Transform Any Room" features over a dozen works of art by 10 living artists, all of whom take their inspiration from the kinds of objects found on the shelves and walls of ordinary homes. These pieces, which include textiles, sculptures, and room-sized installations, defy easy categorization, embracing materials and techniques often associated with craft and decoration. Alternately beautiful and poignant, irreverent and exuberant, incisive and funny, the works of art in "Transform Any Room" speak to a wide range of issues, including labor, belonging, and dislocation.
Organized by Senior Curator Laura Burkhalter, "Transform Any Room" features local, regional, national, and international artists including Faig Ahmed, Ange Altenhofen, Nick Cave, Max Colby, T.J. Dedeaux-Norris, Jay Lynn Gomez, Liza Lou, Lydia Ricci, Martha Rosler, and Anne Wilson.
Sharing some of her early concepts for the show and its evolution, Burkhalter says, "Although I had been formulating it for some time, this exhibition was officially added to the Des Moines Art Center's upcoming schedule in very early 2020. Shortly after, the world changed when COVID-19 related lockdowns began. My work with ideas around house and home defined in terms of objects and art making was suddenly happening in a world where house and home had become significantly more complicated notions. Individual circumstances, experiences, and opinions vary, but the heightened emotions, proliferation of DIY craft and baking trends, and the blurring of lines between life and work changed the perspective of many of us about our homes and their contents, defining things on a spectrum from sanctuary to prison and everything in between."
Contemporary art discourse is constantly examining and moving the lines between what is considered "craft" and what is considered "art," particularly around items such as ceramics, glass, and quilts. "Artists themselves are often unconcerned with these boundaries," says Burkhalter, "but what drew my focus were artists contemplating items that fell well outside the respected traditions of fine pottery or heirloom quilting — things like tasseled throw pillows, holiday-themed knickknacks, or garishly-patterned curtains and bedclothes. These objects and their specific details or style are often the elements that help define a house as a "home," capable of triggering personal memories but are not highly regarded aesthetically."
"The works of art in 'Transform Any Room' speak to broader social and economic issues," adds John and Mary Pappajohn Director Kelly Baum. "Craft itself is a term long associated — often to its detriment — with femininity and domesticity, a fact that many of the artists in this exhibition exploit to critical ends. These artists recognize that space, environment, and dwelling — as both themes and phenomena — are inextricably intertwined with class, race, and ethnicity."
It is tempting to slip into nostalgia around notions of home and domesticity, but the works in "Transform Any Room" present a complicated view of these concepts. There is no singular experience of "home," just as "home" itself reflects larger inequities, circumstances, and backgrounds. Race, gender, sexuality, class, and religion all play a role in how such terms are conveyed and interpreted. Almost every artist in this exhibition is a woman, a person of color, a member of the LGBTQ+ community, or a combination thereof. They come from various geographical locations, classes, and cultural backgrounds, and were born into a handful of different generations, but the specificity of their perspectives is clear, as each approaches the complicated mix of political and personal that any household, its residents, and all its goods can contain. Their transformations are chaotic, celebratory, and frank, making something beautiful out of the damage of everyday life.
Support for "Transform Any Room" and related programming is provided by The Harriet S. and J. Locke Macomber Art Center Fund; Ask Studio; Humanities Iowa; the Ellsworth Kelly Foundation; and the Teiger Foundation. The views and opinions expressed by this program do not necessarily reflect those of Humanities Iowa.
For additional information or images, contact Director of External Affairs Amy Day at 515.271.0344 or aday@desmoinesartcenter.org.
Image credit:
Liza Lou (American, born 1969)
Kitchen, 1991-1996
Beads, plaster, wood and found objects
Overall: 96 × 132 × 168 inches
Whitney Museum of American Art, New York; gift of Peter Norton, 2008.339.a-.x
Photo: Digital image © Whitney Museum of American Art / Licensed by Scala / Art Resource, NY
Related Programming
Join Senior Curator Laura Burkhalter on Thursday, October 19 at 6 pm for a gallery talk about "Transform Any Room" followed by a conversation with visiting artist Max Colby. Comprised of colorful materials and fabrics, Colby's multi-piece work, "They Consume Each Other," will be on view in the Anna K. Meredith gallery as part of the "Transform Any Room" exhibition. This event is freeand registration is not required.
From October 20 – 22, artist Max Colby will be offering a free three-day Art & Activism workshopfor teens titled, "Examining Gendered Aesthetics: Queer/Trans studies and the Mundane,"Through an investigation in collage, participants will dissect objects and materials of their choosing which have an aesthetic that has either personally or culturally impacted their understanding of self, gender, and/or sexuality. Throughout the workshop, participants will address objectives as artists affecting social change and goals in breaking down barriers as LGBTQIA+ artists and change makers.Additional details and registration information can be found at desmoinesartcenter.org.
About the Des Moines Art Center + John and Mary Pappajohn Sculpture Park
The Des Moines Art Center is a vibrant, AAM-accredited institution located in the capital city of Iowa that welcomes over 270,000 visitors annually from across the country and around the globe. Its historic campus consists of three buildings designed by major architects of the 20th century—Eliel Saarinen, I. M. Pei, and Richard Meier—incorporated into the natural landscape of Greenwood Park. The Art Center is home to one of the strongest collections of 20th and 21st century art in the region, and it hosts a series of ground-breaking exhibitions and lectures each year featuring artists known regionally, nationally, and internationally. The experimental spirit of the art for which the Art Center cares for is reflected in its creative offerings, including a celebrated education program that prioritizes access and collaboration, an art school with studio classes for all ages, and the John and Mary Pappajohn Sculpture Park, situated on 4.4 acres in downtown Des Moines. The Art Center is committed to the values of diversity, equity, and inclusion, which are incorporated into every facet of its mission and identity.
###