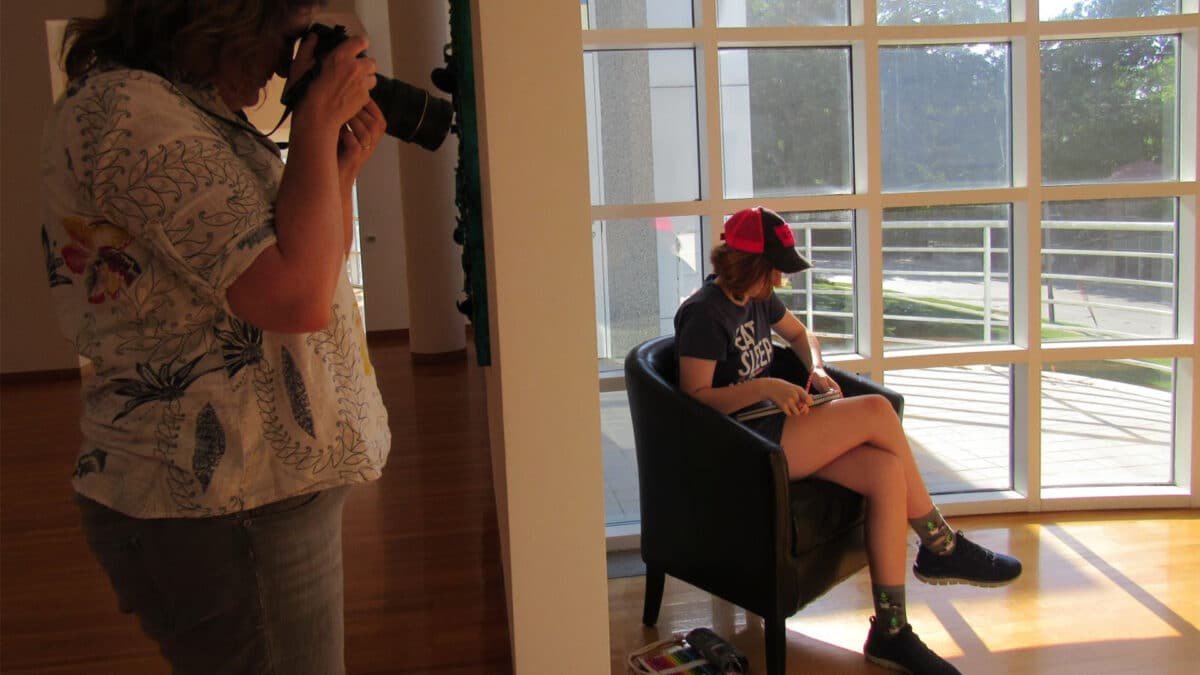 As part of the Des Moines Art Center's new My Museum Monday program, each month an Art Center member is invited to spend time in the museum when the building is normally closed to the public. We received dozens of applications to take part in this experience and are excited to begin sharing them with you.
Teddi and Sylvia Yaeger are a mother-daughter artistic power duo, so naturally they wanted to share their My Museum Monday experience together. They come from a very artistic family filled with painters, illustrators, and photographers. Because of their family's love for art, the Art Center is one of their favorite places to go.
Sylvia is unique in her creative abilities. When she was in second grade, she fell behind in reading, writing, and spelling; eventually, she was diagnosed with dyslexia. According to her mom, Teddi, "Dyslexia is a difference in how the brain processes language. There is no cure – it will always be a struggle. But it also comes with certain gifts, such as visual-spatial abilities and creativity."
Because of this, dyslexia makes Sylvia more imaginative. She says, "I can make stories in my mind, but I have trouble writing them down. I can use my drawings to tell my stories instead!" And so she did. While the museum was closed to the public, Teddi and Sylvia had the opportunity to experience the galleries by themselves. Sylvia chose her favorite art works and drew characters with backstories that were informed by the pieces she liked. Meanwhile, Teddi captured the moments of her 12 year-old daughter's experience.
They wanted to do this together because, according to Sylvia, "there aren't a lot of people who I'd feel comfortable going with; I get shy. But I'm used to my mom taking photos of me. I liked the spaces we were at, and I get inspired by them." Teddi was grateful to have this special experience with her daughter. Though she originally just wanted the experience for Sylvia, she later realized how much she got out of it through the beautiful photographs she was able to capture of her budding artist and their shared passion for the arts. They also realized how important it was for the space to be quiet and empty. "Dyslexics are easily distracted. They live in an almost constant state of disorientation," Teddi said. "Taking away the distraction of other people really helped Sylvia to focus."
Along with getting time alone in the museum to draw, Sylvia also had the opportunity to display some of her works in the galleries with an easel. "She thought it was nice to think that maybe someday she would be known for her art, which was my goal for her that evening." While dyslexia can sometimes make Sylvia feel different and less capable, art makes her feel confident.
The Yeager's are a family of artists and art lovers. When they moved to Des Moines from Seattle just a couple of years ago, they felt fortunate to have access to world-class art in the Midwest. Since discovering the Art Center, they've spent time exploring exhibits, taking classes, eating lunch at Tangerine, and spending time with friends and family, which is why they are happy to support the Art Center with their membership.