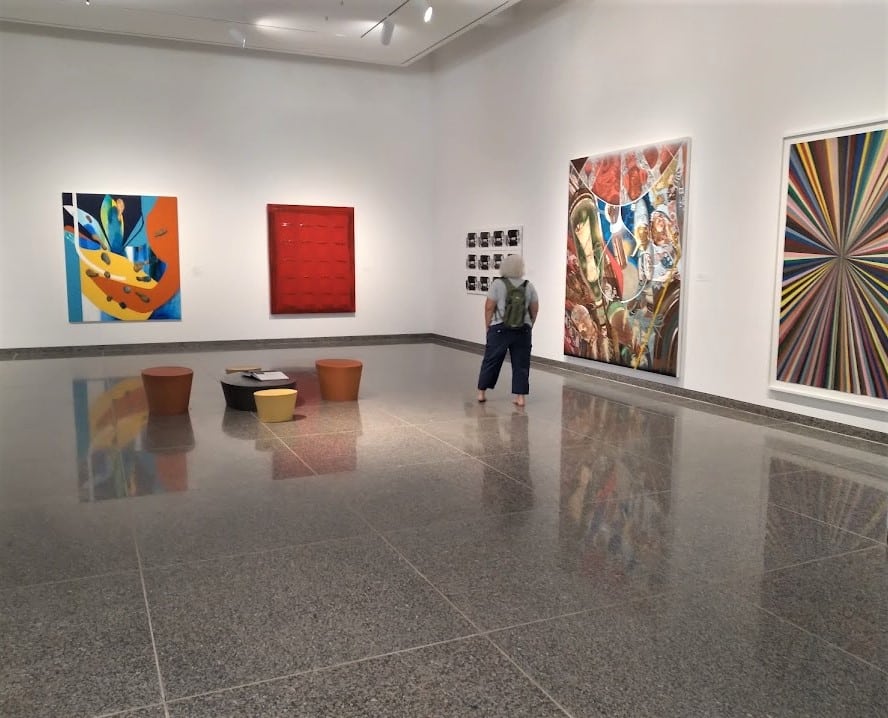 As part of the Des Moines Art Center's My Museum Monday program, each month an Art Center member is invited to spend time in the museum when the building is normally closed to the public. We received several applications to take part in this experience and are excited to share them with you.
Kyle White was one of the first members to apply to My Museum Monday this year, but she wasn't sure what she wanted to do at first. She thought about knitting, reading, dancing, or exercising. Kyle even brought her GoPro with the idea of making creative videos. But finally, Kyle decided that she wanted to have a less structured and peaceful time in the quiet galleries. "So, what would I do?" she said, "I looked at the art. Yes, this is something I can do six days a week but today was different…I was alone."
It was a sunny day in July, and one of the first things Kyle did was ask if she could walk around the galleries barefooted to appreciate the cool floor in spaces like the Pei building. She took her time looking at artwork in every gallery, considering many pieces from every angle. The "Images Unbound," exhibition had recently opened, and Kyle was able to see it for the first time by herself. "I spent longer gazing than I normally would…this is not something I could normally do because there are usually others sharing my appreciation for the same piece." She also spent some time reading a book in a comfy black chair, tucked away in a corner in the sunlit Meier building.
We thank Kyle for supporting the Art Center through her membership. We're so glad that she enjoyed her My Museum Monday experience. She summed up her time well by saying, "The quiet and peacefulness of the museum, need I say more?"